Cultural diplomacy ambassador
As a cultural diplomacy ambassador, Paolo Petrocelli serves in institutional roles to forge bonds through arts and culture in Europe, the Middle East, Africa, Asia and the USA.
Permanent Secretariat of the World Summit of Nobel Peace Laureates
---
Cultural and Music Diplomacy Officer
Paolo Petrocelli is the Cultural and Diplomacy Officer of the Permanent Secretariat of the World Summit of Nobel Peace Laureates Summit.
He is heading the artistic and cultural program of the Summit, recognized as among the most important annual events in the field of peacemaking, attracting Nobel Peace Laureates, high-profile leaders, civil society organizations, students and professors from around the globe since 1999.
Music diplomacy
---
Paolo Petrocelli takes music and explores every single aspect of it. Far from keeping it relegated to entertainment, he does not shy away from exploiting its possibilities in all other possible ways. He uses music as an instrument for itself: be it for the potential it holds as a vessel of economic development or as a medium to strengthen ties among different cultures in the world, he has been and still is a trailblazer, and this makes him a one-of-a-kind individual.
As a music diplomacy expert, Petrocelli launched and developed a series of international initiatives, including the creation of new nonprofit organizations.
EMMA for Peace
---
Founder & President
In 2013, Petrocelli founded EMMA for Peace (Euro-Mediterranean Music Academy) to drive positive change in the Mediterranean region.
EMMA for Peace, or the Euro Mediterranean Music Academy, is an international nonprofit organization for the promotion of peace through Music Diplomacy and education in Europe, Middle East and beyond, that brings together major institutions and world renowned artists under the shared passion for music.
Italian conductor Riccardo Muti serves as Honorary President of the organization.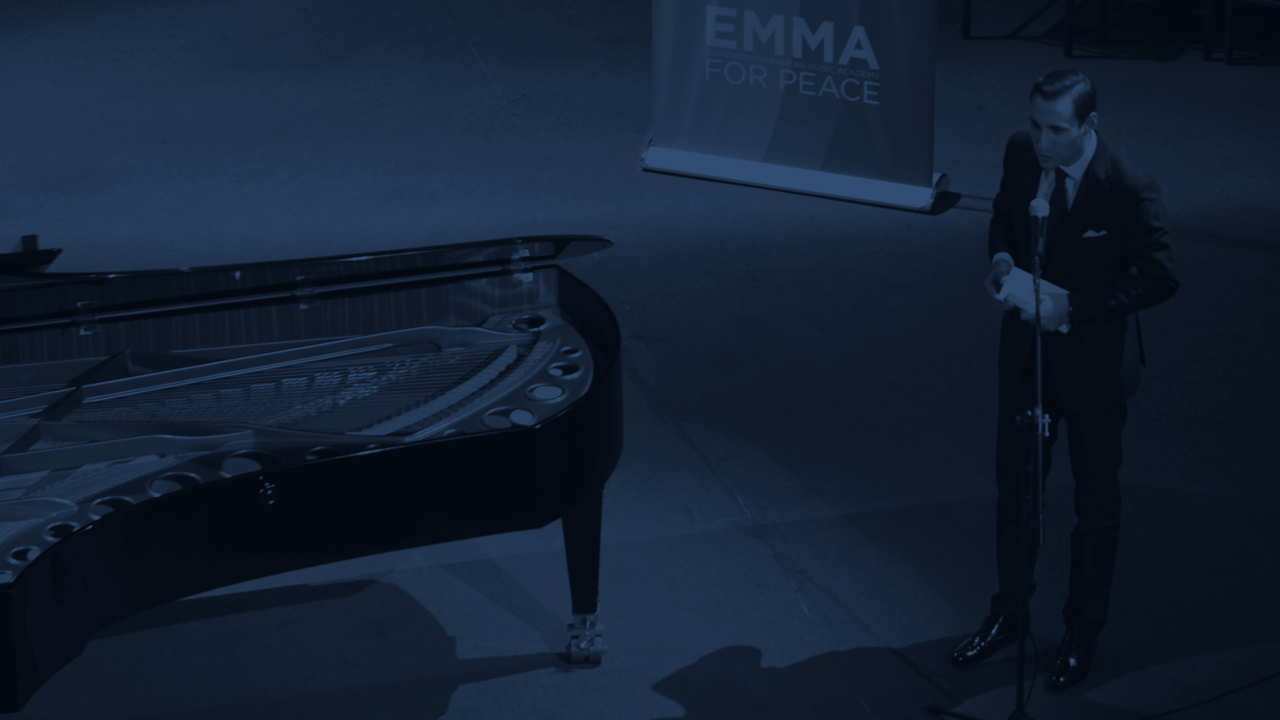 Petrocelli launched the organization on occasion of the 13th World Summit of Nobel Peace Laureates in Warsaw, Poland, with a series of inaugural concerts and workshops.
As President of EMMA for Peace, Petrocelli has organized and promoted more than 40 projects (concerts, workshops, masterclasses, talks), around 15 different countries among Europe, Middle East, USA, Asia, collaborating with over 60 world renowned artists, 50 international organizations, such as United Nations, UNESCO, UNICEF, UNHCR, UNWRA.
He organized special concerts in some of the most iconic concert halls and venues, including Carnegie Hall in New York on occasion of the 70th anniversary of UNESCO, Jordan Hall in Boston, Royal Opera House Muscat, Cairo Opera House, Hanoi Opera House, EXPO 2020 Dubai, the European Economic and Social Committee in Brussels, the Chamber of Deputies of the Italian Parliament in Rome.
In 2020, Petrocelli curated the artistic and production direction of a project collaboration with UNWRA for the making of a song-hymn to hope and brotherhood, composed by a group of 23 young Palestinian refugees, in collaboration with a collective of international songwriters and musicians. The song represents the voices of over half a million Palestine refugee girls and boys studying in more than 700 schools operated by the United Nations Relief and Works Agency for Palestine Refugees (UNRWA) in the Gaza Strip, Jordan, Lebanon, Syria and the West Bank, including East Jerusalem.
Opera for Peace
Co-Founder
In 2019, Paolo Petrocelli founded along with Julia Lagahuzère, former Deputy Casting Director at Paris Opera and Dmitry Vdovin, Founder and Artistic Director of the Bolshoi Theatre Young Artist Program, the largest worldwide non-profit organization for young opera professionals, named Opera for Peace.
Music Diplomacy: Stories from the World
Founder & Editor-in-Chief
Petrocelli is the Founder and Editor-in-Chief of Music Diplomacy: Stories from the World, the first international blog community entirely dedicated to the promotion of music diplomacy.
Coldplay
Cultural Advisor
Since 2019, Paolo Petrocelli serves as Cultural Advisor to Coldplay, the multi Grammy award-winning British band.